Munch & Learn: Bitesize CPD
We did it again! Outstanding speakers, tons of engagement, prize winners and no less than 1,350 registrants! I think everyone agrees that our second Munch & Learn in March 2022 was an even bigger success than the first one.
But of course we are not going to stand still. With the next event now open for registration, we are pleased to add a new equine stream, as requested by delegates. Please read on….and register for free.
---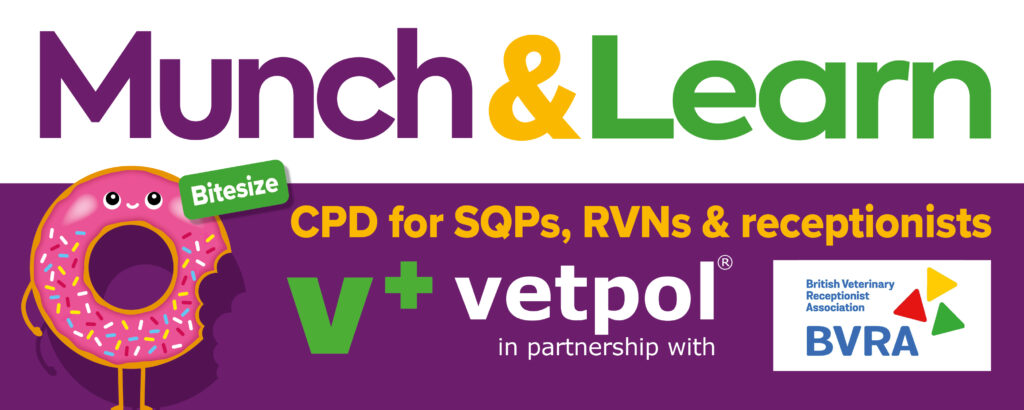 STOP PRESS!!!
We are delighted to announce that we shall once again be partnering with The British Veterinary Receptionist Association!!
There is a great deal of overlap between SQPs, RVNs and receptionists when it comes to CPD. All are in the front line with animal owners; all are well-positioned to become Ambassadors for Animal Welfare.
Munch & Learn shall continue to facilitate the personal development and networking of all these professional groups….and it is FREE.
---
Munch & Learn, October 21st 2022
We have organised another dazzling array of engaging speakers presenting on a wide range of useful and fascinating topics, focussing on the areas that previous delegates have requested. These include:
The therapeutic triangle for the treatment of anxiety and stress in dogs: Shelley Audis-Ridell is back to tell us more about Breakthrough.
Backyard Hens: Winter housing and the challenges of flockdown: This topic was requested at the last M&L and is here courtesy of Nettex Poultry.
Gastric ulceration in horses is a significant and interesting subject – brought to you by Nettex Equine.
You wanted more info about rabbits and Burgess asked which topic? You replied: Emergency First Aid in Rabbits. Looking forward to this one!
Equine anthelmintic resistance is a topic with enormous implications for welfare; if we keep doing what we've done we simply won't be able to protect our horses from worms, causing suffering and death. So we have experts in the form of speakers from the VMD, Sally Harmer SQP and Jeremy Johnson MRCVS all running sessions around this topic.
The equine stream is new to Munch & Learn and so are Horslyx – we are delighted to have them on board talking to you about the link between their product range and handling safety.
Communication skills: The feedback from Stephanie Writer-Davies' last session on "The Art of Saying No" was brilliant and many of you requested that she covers dealing with difficult situations. So Steph will be coming along to do just that!
Also on the subject of safety, we have pet food expert David Primrose booked to come and share his expertise with you.
Where else will you find such an eclectic range of subjects delivered by an engaging range of speakers?
Unable be there on the day? No problem: The content will be available for up to 12 weeks after the event.
Free registration is now open!
---
Interested in attending as a Partner? Contact us with your details and we will send you a media pack when available.
"I attended as a speaker after many months of presenting virtually during the pandemic and can honestly say that Munch & Learn was the best I have attended"

Melanie Sainsbury, Natures Menu, Speaker and Sponsor
"Definitely the best conference I've ever "been to". Brilliant range of topics and I love how easy it was to ask questions and get other people's opinions on the topics too"

Rachel Woodcock, Head Receptionist
"I much preferred it pre-recorded as could pause, rewind while taking notes and read other people's questions and comments"

Mandy Adams, SQP
"Thanks for an amazing day. So informative and loved the whole experience and being able to discuss topics with delegates! Thanks for arranging it, it has been fantastic!"

Rachael O'Rourke, RVN
---
If you are a Vetpol SQP, remember that there is a wide selection of manufacturers CPD available, which you can access via the Vetpol Accredited CPD page.