What is an SQP?…suitably qualified!
Some people ask, "…what is an SQP?" The answer is that a Suitably Qualified Person (SQP) is someone who is registered to prescribe and supply veterinary medicines licensed as POM-VPS or NFA-VPS. They must gain a suitable qualification and supply from a Registered Premises.
Medicines in these categories include dog and cat flea treatments and wormers, horse wormers and a wide range of products for farm animals. They are easily identified as they have POM-VPS or NFA-VPS written on the packs.
If you are an animal owner, look for the badge to identify those people who are qualified SQPs registered with Vetpol… because they are trained to prescribe and supply veterinary medicines and also to give trusted advice on animal health and welfare. Above all, Vetpol SQPs are there to provide a first class service for animal owners who want to speak to a trained professional.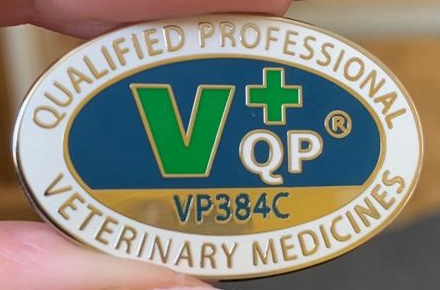 ---
"Training to become an SQP has brought with it the ability to effectively assist customers seeking advice on the health and wellbeing of their pets and the licensed medications available to them.

As an SQP I have able to actively develop my skill set and knowledge base by pursuing continuous professional development and engaging with peers to share expertise and enhance animal welfare standards for the customer I serve.

Being an SQP is more than a job or qualification. It is about having a genuine passion to provide the best possible information to customers and care for their pets"

Paul Cartledge, SQP of the Year 2022, Jollyes The Pet People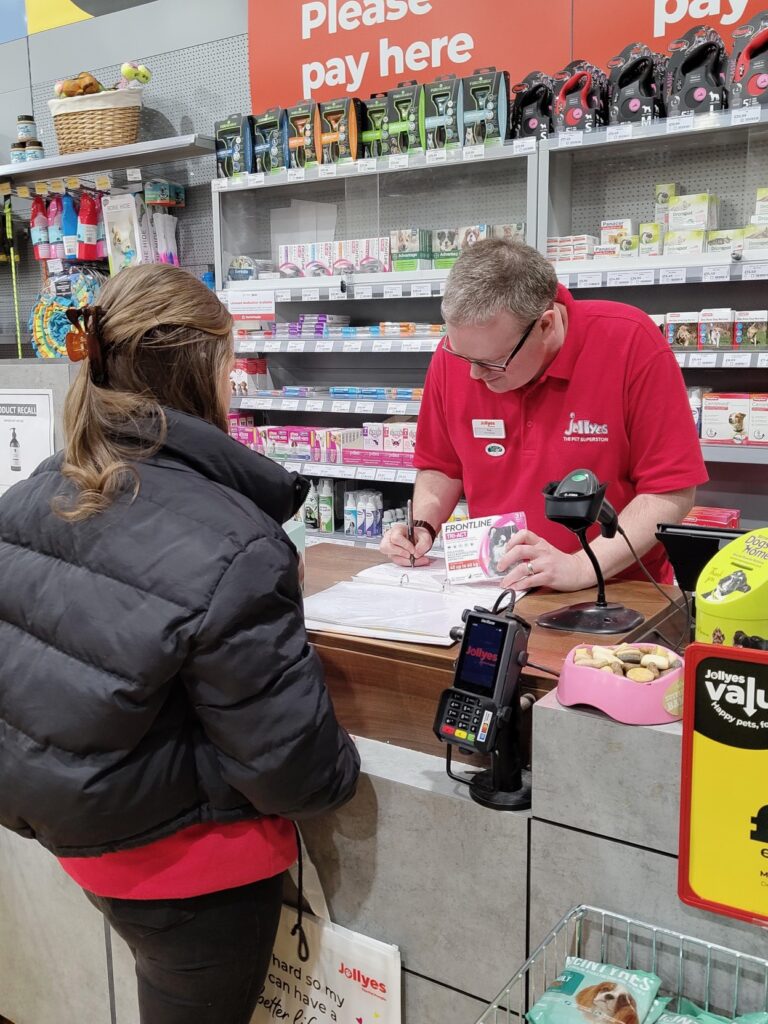 ---
Where do SQPs work?
You may find SQPs in a variety of retail outlets such as pet shops, saddlers, farm supplies and online pharmacies . Some work in veterinary practices or for large farms. Above all, their role is to give trusted advice and deliver great customer service!
SQPs are qualified in Companion Animal (dogs, cats, rabbits), Equine, Farm or Avian, or any combination of these species. SQPs qualified with Vetpol are trained in the broader aspects of animal health. They also know when an animal should be referred to a vet.
In order to provide the right advice and address the concerns of animal owners, SQPs have to be great communicators. The Vetpol SQP qualification includes training in communication skills so that SQPs can converse with clients, obtaining the information they need to make appropriate recommendations. They provides a valuable service which is helpful for animals and their owners!
---
What are VPS medicines and what does VPS mean?
Veterinary medicine categories are legal classifications that define who can prescribe or dispense the medicine and that includes vets, pharmacists and SQPs. All must operate from registered premises where they have to comply with strict conditions to store and supply veterinary medicines. This is to protect animals, the environment and human health.
Those VPS categories of medicines that SQPs can legally supply are:
Prescription Only Medicine – "V" stands for Veterinary Surgeon, "P" stands for Pharmacist and "S" stands for Suitably Qualified Person (SQP). These are the groups of professionals permitted to prescribe these products.
Non-Food Animal – again the "VPS" stands for Vet, Pharmacist and Suitably Qualified Person, SQP. These products are for use in non-food animals such as dogs and cats and may only be supplied by these three groups of professionals.
---
The role of the SQP
The role of the SQP is to make medicines categorised as POM-VPS or NFA-VPS available to those owners whose animals need them. Not only are they involved in choosing the right medicine, they also offer professional advice on the wider aspects of animal health and welfare. They also manage ordering, storage, distribution and supply of medicines.
SQPs help customers make the right choices and ensure owners know how to use medicines safely and effectively. They are trained to know when to refer an animal to a vet, such as when a condition needs a veterinary diagnosis before an appropriate treatment is selected.
In order to practice, SQPs need to be appropriately qualified and enrolled with a regulator. Vetpol offers courses leading to SQP qualification and is an Approved Registration Body, maintaining a register of qualified SQPs. The badge shown at the top of this page is evidence of a qualified SQP who is registered with Vetpol.
There is an approved Code of Practice that all SQPs have to follow.
---
Continual Learning for SQPs
CPD means Continuing Professional Development (CPD). All Vetpol-registered SQPs have an annual CPD obligation of between 3 and 7 hours of study. CPD is ongoing training so it ensures SQPs stay up-to-date in the fast-moving world of veterinary medicines and allows them to further develop skills and knowledge in animal health and welfare.
---
Qualifying to train as a Vetpol SQP
No formal qualifications are required to begin training as an SQP – it is open to everyone above the age of 18 years. Anyone with a background in science, experienced with working with animals or accustomed to learning should find the SQP course easier than someone without this background – but having no prior experience is not a big obstacle.
The Vetpol SQP course is presented in an easy to understand format. There is no manual – everything is online – making it simple to fit around a busy schedule. In terms of timeframe, many people qualify after 3-6 months of part-time study, though students have up to 2 years in which to complete the course.
Online exams can be taken anytime during a pre-booked 2-week period. Exams may be sat at home or in the workplace, at a time of day (or night!) that suits.
---
" (The Vetpol course)..has been a great platform to learn and having the ease to take the course at my own pace has been wonderful, with exams in the same manner. It really helps with the stress and nerves that are normally sky high when taking exams. The support given is brilliant"

A.P., SQP student in Companion Animal, Equine, Farm and Avian
---