This page describes our policy regarding the accreditation of CPD for qualified SQPs: Vetpol seeks to accredit a wide range of CPD designed to increase the SQPs knowledge, skills and understanding of the management of animal medicines in the context of good husbandry in order that SQPs may take a more holistic approach to their management:  
Criteria for accredited CPD
All CPD must be designed to be:
Made relevant to the role of the SQP in safely and effectively storing, managing and using medicines and assisting animal health customers to do likewise
Consistent with current legislation and best practice advice
Topics could include subjects from the following list, which isn't exhaustive:
Staying up to date with medicines legislation
Skills related to the role of the SQP in helping keepers of animals look after them whilst protecting the consumer e.g. communication, veterinary and animal health customer care
Medicine-specific training, i.e. to specific VPS products and product groups such as antiparasitics, the management of which may benefit from the acquisition of key skills such as carrying out faecal egg count reduction tests
Medicines generally such as hygiene, biosecurity or controlling resistance
Improving understanding of disease management. SQPs need to both understand disease and the products required to manage those diseases.
Animal handling and husbandry
Management of the environment relevant to the safety of medicines and animal husbandry
Animal welfare. This includes any CPD supporting the pillars of The Animal Welfare Act 2006, i.e. diet, environment, behaviour, housing and suffering.
Management of Bias
Whilst the word 'bias' is occasionally used in a negative context we use it here in its literal form. Bias is a scientific fact – in disease management the ease with which you can run a given test can also bias your thinking towards recognizing a given infection, infestation or metabolic disease.
All professionals, including SQPs need to learn to question the sources of information available to them, recognize the possibility of bias and adjust for it. It is the opinion of the directors that improving skill levels in these areas will also raise standards in the SQP profession.
Given that this is our policy, the view of the directors of Vetpol Ltd is that if any given CPD topic is being delivered by the provider of a product it is desirable for both the company branding and the product branding to be visible to the participants as this alerts the participants to the potential for bias.
Providers of CPD are therefore advised that company logos are certainly allowed in the footer of slides and at the start and end of presentations.
It is also desirable to point out that you are the manufacturer of a given branded product as this alerts the audience to the potential for bias. However, providers of CPD are advised that very heavy product branding is likely to bias recipients of CPD against their product.
In some circumstances, if CPD is heavily biased towards a named product we may ask you to amend it to put it in context. So, to demonstrate this with an example:
If you run a CPD seminar demonstrating that perhaps 90% of a group of customers would be likely to find your product the most appropriate in a given context and why, and you had the evidence to demonstrate this, that could be acceptable CPD even though there would be a lot of focus on one product
If you ran such a seminar and implied that the majority of customers would benefit from it when in fact only 10% would and 90% would in fact be better of using something else then we would have little choice but to reject it.
We are therefore less concerned with overt branding than we are with openness, honesty, setting training in context and making it relevant to the role of the SQP.
Vetpol Ltd reserves the right to send training back at any time to request adjustments to ensure relevance and context. Accuracy of content remains the responsibility of the CPD provider.
CPD Accreditation Process
Vetpol will manage all requests for CPD accreditation by following a simple process. This will ensure consistency, fairness and timeliness for all existing and potential CPD providers.
The accreditation process is as follows:
CPD Provider emails information about the CPD they require accreditation for to caroline@vetpol.uk – what is the format (online module, presentation, etc), how long does it take? – including access to the CPD via links or attachments to the email.
The time frame for accreditation will normally be 7 – 14 days, other than during exceptionally busy periods. You will be informed if it is likely to take longer.
Materials will be reviewed and accredited by the Vetpol Accreditation Manager or an approved third party. Materials that appear overtly biased, irrelevant to the role of the SQP and/or out of context may be escalated to the directors for a second opinion. Feedback on such matters may result in the timeframe for approval being longer than 14 days.
CPD hours are awarded according to our CPD policy. Vetpol rounds up to the nearest 15 minutes.
Providers are notified of the outcome, i.e. CPD hours awarded and for whom the CPD is appropriate (all SQPs or certain species or VNs only, etc).
Accredited CPD will then be listed on the vetpol.uk site and on Vetpol's LMS where SQPs can easily add it to their online CPD record.
Permission to use the Vetpol Accredited CPD logo alongside the CPD description will be permitted post-accreditation.
CPD is accredited for a period of three years.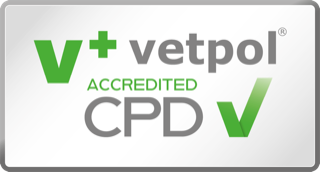 Changes in legislation or best practice
Where changes in legislation or current best practice renders CPD out-of-date within the 3-year period, Vetpol expects the CPD provider to update their materials and then inform Vetpol of the changes when this has been done. If the required changes are not made in a timely fashion, accreditation of materials may be rescinded until such time that the materials are updated.
If an accreditation application is deemed to not meet the accreditation criteria, Vetpol will contact the CPD provider to give feedback and engage in dialogue. Vetpol may request changes or suggest that the CPD is presented to SQPs as non-accredited, which means the SQP can still include it on their CPD record but will claim fewer CPD credits.
Delivering and Recording CPD
Vetpol has a few common-sense rules:
CPD must be delivered as stated on the accreditation application form. We have received reports of manufacturers who rush through an hour of CPD in 20 minutes then spend the rest of the time promoting their own products without setting this is context. This is contrary to our policy. We will take any such reports about Vetpol CPD being delivered in this way very seriously and may remove accreditation.
Vetpol provides SQPs with an online log in order to record and review CPD which includes a mandatory review of the course content. It is the responsibility of the SQP to keep their own records, not for the provider to inform Vetpol that the SQP has attended or engaged in their CPD.
However, we ask all providers to keep records of CPD students attending or engaging in their CPD for a period of 12 months – name and SQP number – and to provide Vetpol with that information when requested for spot-checks and verification. We thank providers in advance for their co-operation with this.
This policy was last reviewed August 2021